Our Services
TIP: On average, sand in the filter needs replacing every 4/5 years. However, those pools that get a lot of use in the summer months and/or a lot of sunlotion may require new sand more regularly. Sand that has degraded and become clogged will result in poor filtration and algae.
TIP: Always net your pool to remove leaves and other debris from the pool floor BEFORE hoovering. This will reduce the number of times you need to empty the pump basket and help extend the life of the pump.
Problem Solving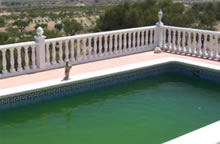 Some problems have a habit of creeping up on you without any indication.
You can wake up one morning to find your pool green, cloudy or that it has a severe case of the dreaded 'red rain'!!
The possible list of problems, unfortunately, is endless.
However the majority of problems are solved quickly and reasonably easily.
A green pool like the one pictured can be treated and cleaned, ready for you to swim in, within a matter of days.
A cloudy pool can be cleared within a matter of hours.
Lack of power is another common problem. We do not just presume that the pump needs replacing! A simple check by us will determine the fault and can save you hundreds of euros!
Clearwater Pools is at hand to give you the help and support you need. Sometimes we can even solve the problem over the phone giving you step-by-step advice and saving you money.
Whatever the problem, give us a call: (0034) 626 139 446 or email us at: enquiries@clearwaterspain.com