Our Services
Private Pool Annual Contracts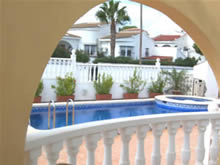 For those people with holiday homes, or simply for those who do not have the time to care for their own pool, the Annual Contract will give you peace of mind and security.
Tailored to meet your needs the Annual Contract will ensure your pool is maintained all year round in the best possible condition.
You will have peace of mind that we are always available in the event of an emergency. If your pool develops a problem, either with the water or mechanically, we will be there promptly.
To help you organise your arrangements as far as possible, each visit we call on the same day
Each customer is issued with their own unique contract reference number. Customer addresses cannot be linked to key reference numbers
We do not need to know in advance when your property will be occupied – your pool will be maintained in a usable condition all year round
We keep records each week of chemicals applied, water condition etc. These records are available for your inspection at any time upon request
Clearwater Pools operates a legal business in line with Spanish Law, and we only use those chemicals approved by the government
Our fees for Annual Contracts vary according to the size of the pool and the type of service required.
To arrange for us to visit your pool and provide you with a personal quotation please call us on: (0034) 626 139 446 or email us at: enquiries@clearwaterspain.com