Our Services
TIP: Clean out the pump basket regularly — this will help prolong the life of your pump
TIP: Fit a waste valve to the waste pipe. If the selector valve suddenly fails you will not lose the pool water
TIP: Think you may have a leak? Try the 'Bucket Test'.

Fill a bucket three quarters full with your pool water and place it securely on one of the steps, or alongside the pool.

Make a note of the water level of the pool and compare the level of both after about 48 hours — they should both evaporate at the same rate.

If the level is lower in the pool than the bucket then you have a leak.
Maintenance and Repairs
From time to time every pool requires maintenance and repair. The important thing here is not to ignore the issue and get the problem sorted as soon as possible. If you delay calling a pool maintenance person until April/May time you will probably find yourself at the back of a very long waiting list.
Not only that, but the fault will not repair itself and may only get worse causing a lot more damage than you counted on.
Work in the Pump Box
Sand Changes
Replacement Filters
Replacement Pumps
Condensers
Filter Lids
Pump Lids
Pump Baskets
Timers
Selector Valves
Valves
Leaks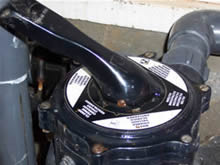 Selector valves are problematic.
A leaky selector valve can be catastrophic. We have known pools that lose half their water level overnight due to a faulty selector valve.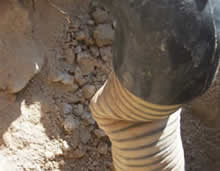 This picture shows what happens when 'flexible pipe' is used at the skimmer end of the pool.
Chlorine will eventually degrade the pipe. It will distort, shrink and finally collapse and split the pipe. When this happens the skimmers will not work at all and the pool will lose water. This is a big job. Time consuming and expensive.
However, on the odd occasion more serious damage can occur. Sometimes as a result of a poor build in the first place or even as a result of seismic activity!
When you think you have a serious problem with your pool we will visit you and discuss the issue and the costs openly.
Only when we both fully understand exactly what is involved and you have approved our estimate, will we proceed.
Sometimes it is essential to get a second opinion. We work closely with experienced and dedicated pool professionals who we know we can trust.
We can provide you with recommended professionals for work we do not carry out, such as:
Pool Covers
Heating
Pool Construction
Pool Renovation
Salt Water Systems