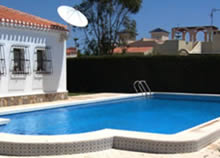 Clearwater Pools have been providing a quality pool maintenance service since 2001, and we are still growing. Based in Crevillente, we cover the Southern Costa Blanca, coastal & inland, including Torrevieja
Owned and operated by Frank and Sue Reidy, Clearwater Pools provides a professional, legal, reliable and friendly service ensuring that your pool is in the best possible condition all year round.
Swimming pools need to be safe, clean and healthy. Clearwater Pools maintains the highest achievable standards, using only those chemicals approved by the Alicante authorities and we only purchase from suppliers who are regularly inspected to ensure their products meet the required Government standards.
Your pool is there to be enjoyed, to keep you cool and for exercise to burn off those 'excess' holiday calories! But, like any other major purchase, a swimming pool needs regular care and maintenance.
With this in mind we can offer you: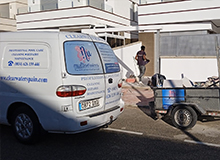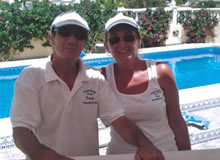 We are renowned for our reliable and trustworthy service, keeping in regular contact with our customers and just going that 'extra mile' to ensure that your pool stays in the best possible condition.
Your pool is important to you – trust its care to the professionals. Our high standards, satisfied customers and exceptional reputation speak volumes.
We won't let you down!
As you browse through our website you will find helpful TIPS on how to care for your pool. Look for the blue writing to pick up those invaluable hints!