Our Services
Community Pool Annual Contracts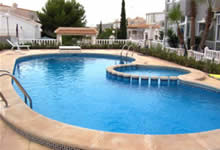 Community Pools need more regular visits than private pools, simply due to the large number of bathers, at the hottest time of the year.
These contracts are individually tailored to suit the needs of the community, which can vary greatly due to the size of the pool and the number of properties having access to the pool.
We can provide The President with logs of when we attend together with details of the water test results and chemicals added.
Included in the contract is a free call out service which ensures our prompt attention at all times.
We can provide you with 'bona fide' invoices, copies of our registered papers and public liability insurance certificate.
Clearwater Pools operates a legal business in line with Spanish Law, and we only use those chemicals approved by the government
Our fees for Annual Contracts vary according to the size of the pool and the type of service required.
To arrange for us to visit your pool and provide you with a personal quotation please call us on: (0034) 626 139 446 or email us at: enquiries@clearwaterspain.com